Southbury CT Storage Units
Please read first:
1. All of our currently available units are listed below. If you don't see the size you need, add your name to the waiting list and we will send an email when one becomes available.
2. A free lock is included with every new rental. We have carts, dollies, and hand trucks available to make getting around a breeze.
3. The first month's rent is pro-rated based on the day you sign up. Your rental will automatically renew on the 1st of each month until you decide to move out.
4. A welcome email is sent immediately after renting which includes your access code, building map, and other necessary info.
Call us at 203-264-8272 with any questions or if you need assistance signing up.
Available Units
Available units sorted smallest to largest. Size dimensions listed in feet (Width X Depth X Height)
Locker (4 x 3 x 4)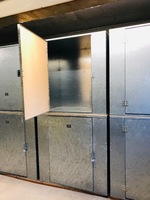 ✓ 1st Floor
✓ Steel Locker Unit
✓ Climate Controlled
✓ Inside
✓ Interior Hallway
✓ Swing Door
✓ Free Lock Included